Honeydew With Smoked Salmon
ChefLee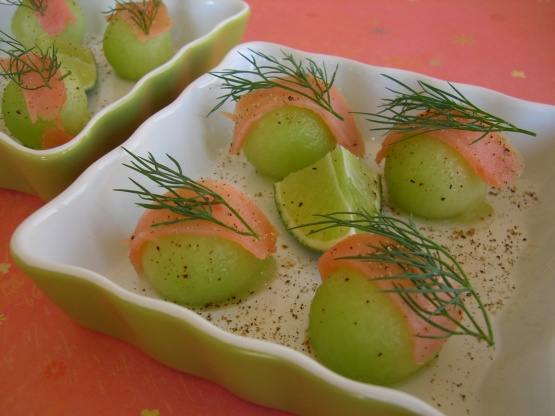 this is a lovely refreshing appetizer, perfect for spring and summer.

Chia, when I saw this posted as "Recipe of the Day", I knew exactly what I was going to have for lunch! I had everything but the dill already (next time will be sure to have!). I've always loved honeydew with prosciutto, but, never thought about lox with the melon. This was absolutely wonderful! The combination of sweetness, saltiness, and freshly ground pepper...Unbelievably good! Today, it was lunch, but this will surely be a hit as an appetizer. Thanks, so much, for posting. Alan
cut honeydew into quarters, remove the seed and rind.
cut each quarter into 4 thin wedges and sprinkle with lime juice.
wrap a slice of salmon around the center of each wedge and place 2 on individual plates.
sprinkle with pepper and dill before serving.