Honeycomb Ice Cream With Toffee Sauce
An_Net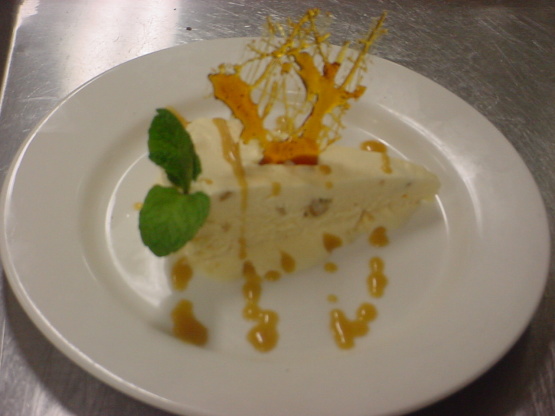 Sweet, crunchy and indulgent. For the sweet tooth in us all. Time does not include cooling or freezing times. Allow 8 hours in total to make this recipe.

very very very good. I found that if you scrape the chocolate off a violet crumble bar, crunchie, or any chocolate bar with honeycomb inside, it is even better.
HONEYCOMB:
Combine sugar & golden syrup in saucepan & stir over low heat until sugar dissolves.
Increase heat and stir until deep gold and foaming.
Remove from heat, stir in bi-carb soda and pour on to greased baking sheet and cool to room temperature.
Break in to 1cm square pieces.
ICE CREAM:.
Line base of a 28cm fluted tart tin with a removable base with freezer wrap and spray with oil.
Whip cream and vanilla until peaks form, cover and refrigerate.
Combine sugar and water in saucepan and stir over low heat until dissolved.
Increase heat and cook without boiling until hard boil stage.
Beat eggs until pale and thick.
While still beating, gradually add hot syrup and beat until cool.
Fold whipped cream and honeycomb into egg mixture and pour into prepared tin.
Cover and freeze for 5 hours.
SAUCE:.
Melt butter in deep saucepan, add sugar, golden syrup and stir until sugar dissolves.
Stir in cream and simmer for 10 mins, cool to room temp and refrigerate.
Serve ice-cream in wedges with sauce and a toffee decoration.
TOFFEE:
Combine all 3 ingredients in saucepan and stir until gold, pour on flat tray and set.