Honeybee Gluten-Free Dump Cake
ChefLee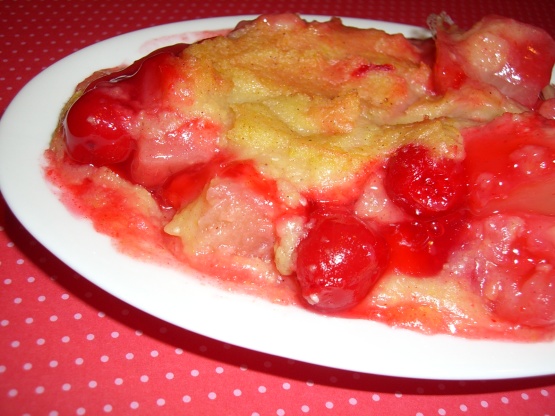 The cult classic with a gluten-free lower fat twist!! You can use any canned fruit pie filling you wish! Cherry tastes great with pineapple, and it's in the original dump cake but blueberry is great too! Tastes great hot or cold, by itself or with whipped cream or vanilla ice cream! Please use the polenta that comes in a tube, as this is how this recipe was tested. You can get it at any health food store like Whole Foods, and Trader Joe's has it at a really great price!! Created this recipe for RSC Contest #13.

Interesting use of ingredients I had on hand. I had no trouble getting the polenta mix, and really liked the honeyed polenta topping. It never got as firm as I would have liked, and was always really really mushy. But it had nice flavor. I'm not a huge cherry fan but the rest of my family enjoyed it.
NOTE: You will need a food processor or blender for best results.
Preheat oven to 350 degrees F.
In a 9X9 nonstick baking pan; dump in the drained pineapple chunks then spread in the cherry pie filling.
Place the polenta chunks with the honey and the yogurt into a food processor or blender and mix until blended.
Add the cinnamon and cardamom to the polenta mix and process until well blended. Scrape down the sides of the processor, if necessary.
Add the softened butter to the polenta mixture and process once more until well blended.
Spread the polenta mixture over the cherry-pineapple mixture then bake, uncovered, for 40 minutes in the middle of the oven.
Remove and let cool a little bit then enjoy!