Honey Whole Wheat Pecan Bread (Bread Machine)
COOKGIRl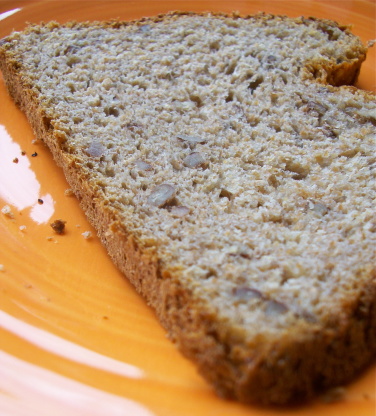 I make this bread once a week. Everyone seams to love this bread. Its my most requested. I played with ingredients over and over until I got it right. Very simple and very good ya too! This creates a VERY fluffy bread. Its almost as fluffy as white bread. The trick is the xantham gum and wheat gluten.

I had everything on hand except for the wheat gluten yet it turned
out tasty and not dry-unlike some whole wheat breads, especially those made in an ABM. Batter looked very wet and went ahead and added additional 1/2 cup whole wheat flour. Next time I prepare this recipe, I'll use the dough setting and hand shape to bake in the oven. Enjoyed it again this afternoon toasted with a little bit of butter and our daughter liked it with peanut butter. Thanks for posting!
Add liquid ingredients to your bread machine.
Add all dry ingredients but the yeast and pecans.
Pour yeast on top in a dry area.
Set bread machine for a 1.5 LB Loaf
Choose your Crust, I normally use Medium or Dark.
Push Start.
Crush up pecans. When add/nut timer beeps add pecans.