Emily.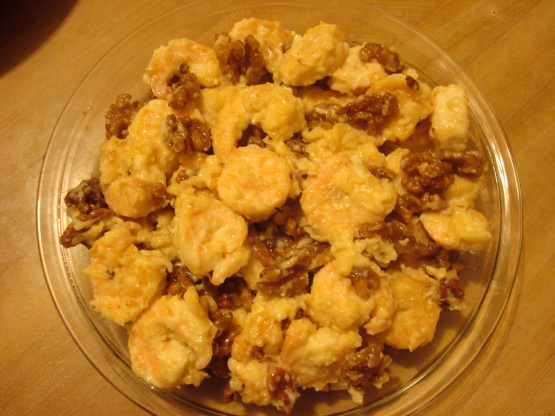 Crunchy sweet walnuts with crispy prawns--a wonderful combination. Don't let the mayonnaise part throw you off--it is very good.

Top Review by Emily.
This is sooo good. I'm 13 & I made this & both my family and I enjoyed it a lot. It's almost better than what we always order at the Chinese restaurant! But good enough. :) Thanks for the recipe! (& I think I used more mayo and sweetened condensed milk)
Boil walnuts in 5 cups water for 10 minutes; drain.
Place walnuts and 1/2 cup sugar into 2 pints of boiling water. Boil for another 10 minutes.
Remove walnuts from water and coat with honey.
Heat 2 cups oil until almost smoking, then fry walnuts until they are shiny and brown, about 5-8 minutes.
Remove and place on cookie sheet to cool.
Mix cornstarch and egg whites together to form a thick, sticky mixture. Mix shrimp into this mixture and set aside.
Mix mayonnaise, lemon juice and condensed milk in a medium bowl until smooth.
Heat 1/2 cup oil and deep fry shrimp until golden. (Put only a few in at a time or they will stick together).
Drain shrimp and then fold into mayonnaise sauce.
Serve over the cabbage the sauce is great with it.