MsSally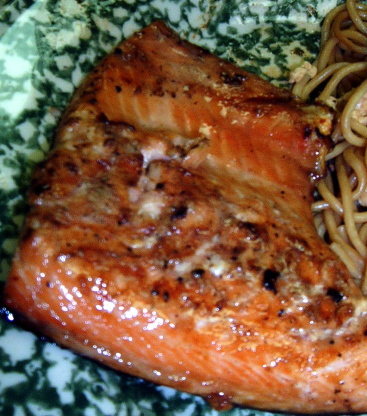 If you like salmon, you'll love this recipe! This is another recipe my husband developed based on one of our restaurant favorites. This is now about the only way we eat salmon. Even our 1 and 4 year olds eat this.

I marinated it for about five hours with the salmon meat side down, so it really soaked up the teriyaki sauce. I used Soy Vay Teriyaki Sauce. I didn't measure how much honey I put on, just kept basting it on about four times while cooking. The recipe calls for cooking it on the grill, but I did it in the oven at 375 degrees. I cooked it face down at first as the recipe calls for, then flipped it over onto the skin side and finished cooking until it flaked and was no longer pink. Served it at a dinner party and everyone raved about it. It was delicious! ONe of the best salmon recipes I ever tasted.
In a large ziploc bag, marinate salmon in teriyaki at least 4 hours, or overnight.
Preheat grill on high.
Place salmon meat side down on grill for 3 minutes.
Rotate 1/4 turn (don't flip), cook 3 minutes.
Flip so skin side is now down.
Brush with honey.
Cook 6 minutes, or until no longer pink.