Honey Teriyaki Chicken Strips
Bergy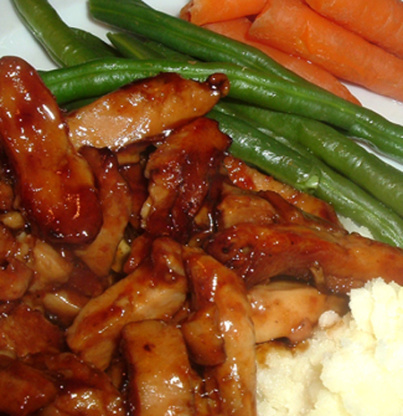 Very simple..... there are only three ingredients try it you'll love it.....

Very easy, quick, tasty meal! I've never been able to find the Honey Teriyaki sauce or marinade, but I have tried Kikkoman's Teriyaki glaze and once even mixed a normal Teriyaki marinade with a Hawaiian marinade and both times, it was great. My husband especially loves this recipe. You might want to refrain from pouring all the sauce into the pan to cook the chicken. That way, you're able to get some carmelization going on the chicken and the flavor gets a huge boost! I added pineapple chunks to the chicken just before serving and accompanied it with rice and broccoli/carrot stir fry.
Put chicken in a container with lid.
Add marinade.
Refrigerate for at least thirty minutes.
Melt butter in a skillet.
Place chicken in skillet with all of the marinade.
Cook approximately 20 minutes on medium heat or until done.