Honey - Sweet Potato (Or Pumpkin) Bread
Rita1652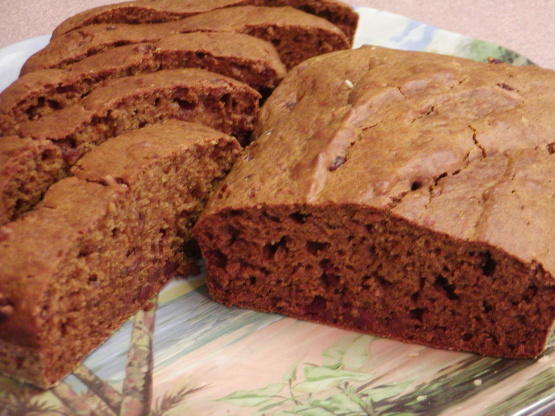 This delicious quick bread is just perfect with a cup of tea or coffee. Spicy, moist, not too sweet, great texture. Made up with some of the ingredients required for the challenging RSC 2004 Contest!

Excellent recipe. This is sooo tasty! The wonderful scent of this bread baking had me salivating - you can really get a strong sense of the balsamic vinegar in this. This has a gingerbread-like quality and was very moist and tender. Note: I checked mine at the 1 hour point and felt they were ready then. I did use the optional golden raisins, which I think really added a nice juiciness to the bread.
Preheat oven to 375F; butter and flour two 9x5-inch loaf pans.
In a large bowl, whisk together oil, honey (if you measure out the oil first, and then put honey in the oiled measuring cup, the honey will come out easier) eggs and sweet potato puree until creamy.
In a small bowl, combine both flours, sugar, baking soda, salt and spices.
In a measuring cup, combine buttermilk, balsamic vinegar and vanilla extract.
Fold dry ingredients into sweet potato mixture, alternating with buttermilk; mix until just combined; if using pecans and/or raisins, toss them with 1 tblsp flour and fold them into the batter quickly; scrape batter into prepared loaf pans and bake for about 60 minutes, or until breads test done when toothpick is inserted into centre and comes out clean; if bread appears to be browning too quickly, tent loosely with some foil and continue baking (I did this about 1/2 an hour into baking).
Cool in pan for 10 minutes before removing.
Note: Like most quick breads (and cakes), this slices up best a day after baking- I couldn't wait!