gailanng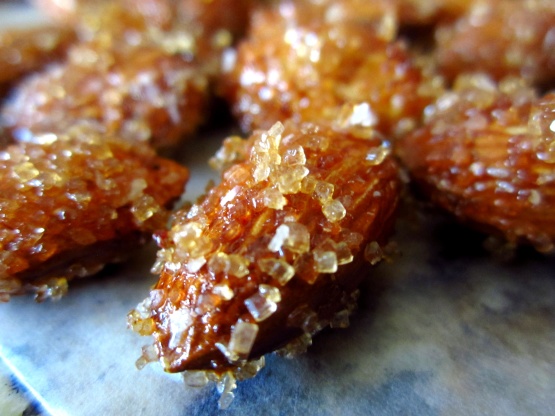 These spiced nuts can be prepared with pantry ingredients in a flash. The nuts are roasted then tossed in a totally addictive salty-sweet coating made from Demerara sugar and coarse kosher salt.
OMG!!! These are so good and addictive and I can't believe I am the first to try them!!! I was just watching all the morning "news" shows for "new years diet resolutions" and foods that are good for you. The doctor that was giving the information showed that almonds are so good for you health wise, but also are great for afternoon snacks because it fills you up!! Next time I would try to make it a bit healthier by reducing the sugar/salt mixture, to me, more then enough as used in the recipe for the quantity. Thanks so much for sharing such a delicious recipe. Made for Please Review My Recipe Tag Game.
Preheat oven to 350-deg. F. Line a rimmed sheet pan with parchment paper and set aside.
In a large bowl, combine sugar and salt and set aside.
Combine honey, black pepper, cumin, coriander, paprika and cayenne in a bowl and mix well. Add mixed nuts and stir to thoroughly coat. Spread nut mixture evenly in a single layer on prepared sheet pan and bake until toasted and fragrant, about 10 to 11 minutes.
Remove from oven and let cool until barely warm, then transfer to sugar mixture and toss to evenly coat. Return to sheet pan and cool completely. Transfer to airtight container or divide nuts into two portions and package for gift giving. Nuts will keep 5 days at room temperature, tightly sealed.