3 Reviews
OMG!!! These are so good and addictive and I can't believe I am the first to try them!!! I was just watching all the morning "news" shows for "new years diet resolutions" and foods that are good for you. The doctor that was giving the information showed that almonds are so good for you health wise, but also are great for afternoon snacks because it fills you up!! Next time I would try to make it a bit healthier by reducing the sugar/salt mixture, to me, more then enough as used in the recipe for the quantity. Thanks so much for sharing such a delicious recipe. Made for Please Review My Recipe Tag Game.
I'm watching my son-in-law shovel these down as I type. For sure he doesn't cook, but he DOES know how to eat. Subbed chipotle powder for the cayenne and the results were outstanding.

Delicious. Scrumptious. I only had half the amount of sugar (I used wheylow - a mindblowing sugar sub) - so I only made 1/2 the topping and it was still good. I also didn't have coriander and it was still so good. I will be making these again and again. Next time I will make them as written.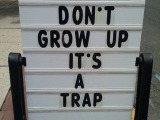 Honey Spiced Nut Mix