Annacia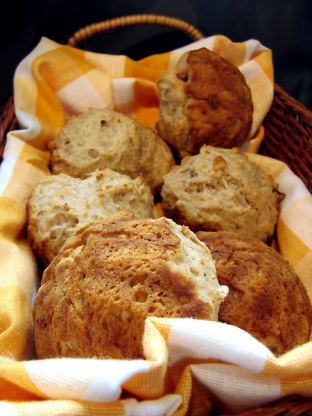 I found a yummy recipe and fiddled about with it. These muffins are NOT sweet, because I can't stand sweet stuff, after all.. :P

Very, very nice muffins. The degree of sweetness is perfect and that small touch of honey is the perfect top note to the great spices (I added a light scattering of chopped walnuts too). These were made in Oct and they are ideal for Fall and they are so nice with a cup of tea while watching the leaves drift down. I used Splenda for the sugar, heart healthy margarine and egg white. Thank you Jermaine, I'll be making these again. You have been a great daughter for PAC, Fall '07.
Preheat the oven to 200 degrees celcius. Grease the bottom only of 12 muffin tins, or line with foil/paper cups.
In a large bowl, sift dry ingredients together.
In a separate bowl, mix together dry ingredients until thoroughly combined.
Add wet ingredients to dry ingredients. Stir until just combined.
Divide batter into 12 muffin tins and bake for 17 minutes.