Honey Spice-Rubbed Pork Tenderloin
Bergy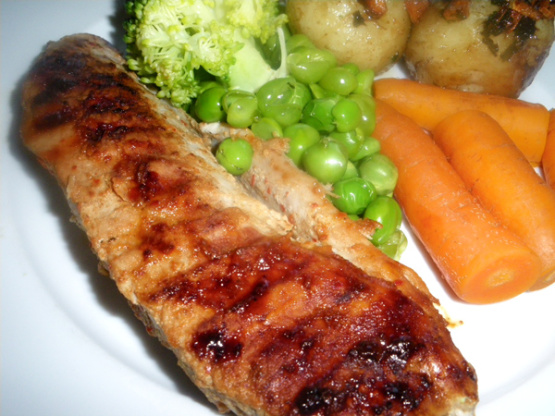 A not quite sweet but not really spicy glaze to throw on tenderloins or chops. Ive made this without the dry mustard (didnt have any) and it tasted great! You can also broil instead of grilling with no problems.
Wonderful dinner! I used it on skinless boneless chicken breasts and used my George Foreman. Super easy and so tasty! Thank you for sharing, Michelle_My_Belle!
Brush 2 tablespoons of the Catalina dressing over pork.
Mix dry ingredients; rub onto pork.
Let stand 10 min (flavor is just fine w/o marinading for long) or refrigerate up to 24 hours to marinate.
preheat grill to medium heat.
Place pork on grill; cover.
Grill 20 min., turning occasionally.
mix remaining 2 tablespoons dressing and honey.
Brush some of the honey mixture over pork.
Continue grilling 5 to 10 min., turning and brushing with honey mixture until pork is cooked through (160°F.).
Let stand, covered with foil, a few minutes before slicing.