MeriemTM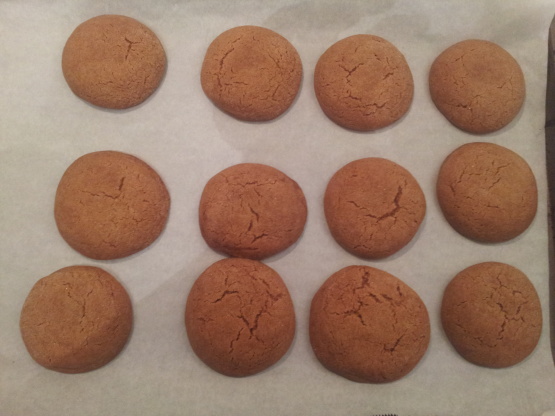 yum. iT's aLL iN tHe naMe. I'm not sure on how many servings but I'm thinking 24 cookies if you make them the average cookie size. I tend to make mine a little bigger, cuz my hubby's a cookie monster.

Great recipe. I dropped the dough from a rounded teaspoons and sprinkled with sugar. I made 24 larger at 15 minutes and 24 small cookies at 10-11 minutes baking time with this recipe. Be sure and add at least 1/4t. more ginger, you will be disappointed if you don't. I am wishing I had added even more. So good!
Preheat oven to 350.
Cream together Brown Sugar and Butter.
Slowly add the Honey, then the egg and mix well.
Sift dry ingredients together and add to the creamed mixture.
Make sure the batter is mixed well then form balls and dip in white sugar and place on greased cookie sheet sugar side up.
Bake for 7 minutes (cooking time may vary).
Let cool or eat warm.