Honey-Soy Glazed Pork Chops
Prep 10 mins
Cook 15 mins
I found this recipe on another website, however I do not remember which one. This is quick and easy to prepare. The sauce is delicious served over rice. Do not cook the sauce too long as the soy sauce can become very intense. I usually double the sauce mixture and garlic but that is just my preference.
Directions
Sprinkle 1 side of each pork chop with black pepper.
Heat nonstick skillet over medium high heat until hot.
Add pork chops, pepper side down, and cook approximately.
4 minutes or until browned.
Reduce heat to medium, turn pork chops and cook 6 to 8 minutes longer or until they just lose their pink color.
Transfer pork chops to platter, cover to keep warm.
While pork chops are cooking, in a cup or small bowl, mix honey, soy sauce, balsamic vinegar and cornstarch until smooth.
After removing pork chops, add garlic to skillet, cook 30 seconds, stirring (no longer so it does not burn).
Stir honey mixture into skillet (mixture will boil) and cook 1 to 2 minutes, stirring.
The longer the sauce mixture cooks, the soy sauce flavor becomes stronger.
Spoon sauce over pork chops.
Sprinkle with green onions for garnish, if desired.
Reviews
Most Helpful
I was gonna make this for dinner the other night, but was too tired (I have a 2 month old), so my mother-in-law made it for me. Instead of soy sauce she used braggs liquid aminos, which to me is better than soy sauce, and didn't use the green onion. She did overcook the pork chops a bit though, and I thought the sauce was too runny and would've tasted better if it was thicker. Good recipe though.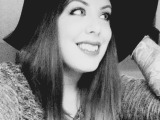 This was very tasty. Followed directions exactly and added about 1/2 tsp minced ginger with the garlic. Will be making again
I loved this recipe. I will make this again.