loof751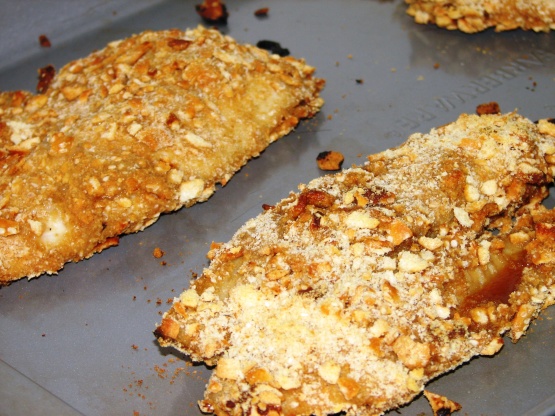 This recipe was published in the food section of The Milwaukee Journal Sentinel. Unfortunately, I can't give proper credit because after trying the recipe once, it went into our family favorites cookbook and I tossed the clipping. My kids all love it, and every guest who has tried it has asked me for the recipe. Note: The recipe calls for sesame sticks, which are a snack food, found in most grocery stores, health food stores and nut specialty shops. Please don't try using sesame seeds instead, as I suspect one reviewer has done, or your results may not be as wonderful. :o)

I made this for my husband, and he ate all three pieces of tilapia. He really liked the flavors (I added ginger and left off the sesame sticks because I couldn't find them) and thought it still felt light and healthy, but not too boring. I will definitely make this again for him, and I'll try to find the sesame sticks for next time!
6

tilapia fillets

2

tablespoons tangy sweet mustard

2

tablespoons honey

1

tablespoon soy sauce

1

teaspoon sesame oil

2

cups sesame sticks
Wash and pat dry tilapia.
In shallow bowl, mix together mustard, honey, soy sauce, and sesame oil.
Place sesame sticks in food processor and crush until it resembles coarse sand. Place in large shallow bowl.
Brush each tilapia fillet on both sides with honey-mustard mixture, then coat with crushed sesame sticks.
Place coated fish on a non-stick or lined baking tray and bake at 375 degrees for 15 minutes.