I just adapted this from many recipes and it's never made with exact amounts as you can add more or l less depending on your individual taste.
Directions
Have prawns ready and patted dry.
Have pan hot and oiled. You will need a heavy based pan as you need to keep the heat up or you will stew the prawns.
Add the ginger, garlic and onions; fry for 30 seconds moving constantly.
Add prawns and cook for 30 seconds moving and mixing with the paste.
Add the sesame oil and honey and cook for further 30 seconds.
Add the water and seeds deglaze the pan and mix all together and place on a serving dish.
This all should be done inabout 2 minutes and on high heat and you need to keep the food moving in the pan.
Serve with rice, soy sauce to taste.
Most Helpful
Very nice flavour--the caramelised honey and sesame worked well. I served them on top of Abby's Prawn Mango Avocado SAlad-- yum!

I doubled the entire recipe and made it exactly as stated; however, I do think the addition of the water effectively "watered" the flavor down, and I would delete that step the next time around. It has the potential for being very flavorful otherwise.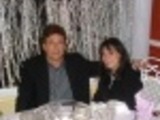 This is very nice, and an easy dish to make. It has light, subtle flavors. I paired it with some leftover stir-fried rice, and it was delicious. I look forward to making it again and serving it with plain rice so the flavors will show a little better. I did cut the recipe in half, but with plain rice I think I would double all of the ingredients (except for the shrimp) to have plenty for the rice. Thanks for posting a great one. Made for Fall PAC 2008.