Honey Sesame Pork Tenderloin
Boomette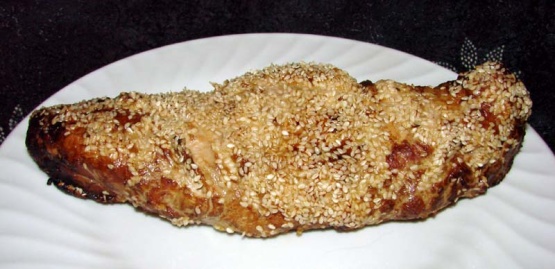 Here is a different and very tasty way to make tenderloin...I make this often at our house, this is one of my husband's favorite pork dishes. Note: the longer the pork marinates, the better it will be.....prep time includes marinade time.

I love to find new ways to cook tenderloin and this one went over big with my guests and I. I served it with Asian Coleslaw and Sesame Noodles and it was excellent!
Combine soy sauce, garlic, ginger and sesame oil.
Place the pork tenderloin in a heavy plastic bag.
Pour the soy mixture over the pork to coat well.
Cover and marinate 6-24 hours in the refrigerator.
Remove the pork from the marinade; pat dry.
Let sit out at room temperature for 1 hour before coating and cooking.
Mix together the honey and brown sugar in a shallow plate.
Rub the tenderloin in oil all over.
Place sesame seeds on a separate shallow plate.
Roll pork in the honey mixture, coating well.
Then roll in sesame seeds.
Roast in a shallow pan at 375 degrees for 20-30 mins or until the pork is cooked.
Remove to a platter, slice thinly to serve.