Honey Rosemary and Lemon Baked Chicken

Such an aromatic slightly sweet, slightly tangy use for those economical chicken thighs. Make an additional 1/2 cup of honey butter lemon sauce with rosemary to dredge the thighs through before serving with sauteed kale & steamed rice.... very nice. From Nikki Shaw via the Contra Costa Times.
Directions
Preheat oven to 400°F; line a large baking pan with foil and place a roasting rack on top. Place chicken pieces, skin side up, on top of rack (this allows chicken to roast all over and not stew in its own juices).
Squeeze lemon juice over chicken. Rub with butter, then drizzle honey over the top of each piece. Season with rosemary, garlic powder, salt and pepper.
Bake the chicken for 15 minutes, then reduce heat to 350°F and bake for 25 more minutes.
Reviews
Most Helpful
I was kinda disappointed in this, but the wife really liked it. It was moist & tender, but I thought it was weak on the seasoning. Thanks!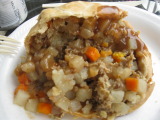 Nice blend of flavors! I used 1/2 tsp pepper instead and that was still too much for my tastes, I felt it overpowered the other flavors. Next time, I would take your suggestion to make more sauce and pour over before serving. The cooking method makes most of the sauce not coat the chicken so while the flavors were all there, I would prefer them a bit stronger. Thanks for sharing!

Easy, fast and delicous! Tangy, sweet and herby! Smells and tastes wonderful! Highly recommend you give this a try...