awalde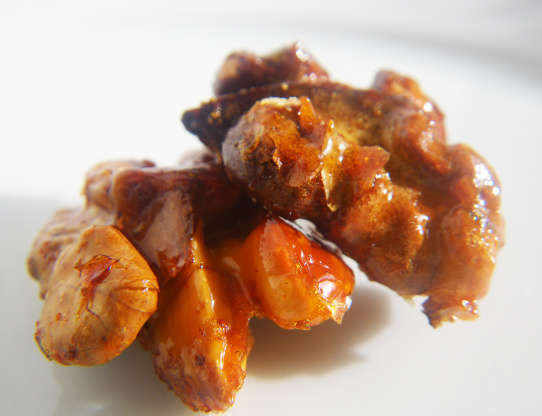 Sweet and spicy - a great quick snack. Best to keep in an airtight container for about a week at room temp.

Top Review by awalde
Your recipe will be famous! We enjoy the nuts with the chili touch. I can imagine that this could be nice presents for friend when we are invited in somebody%u2019s house. Tasty, special and pretty. What do you need more?
I%u2019m sure we%u2019ll do it again.
Combine honey, sugar, salt, cayenne and cinnamon in a small pot over medium heat,.
Stir once then cook 3 minutes till sugar dissolved.
Add walnuts, stir to coat.
Simmer 5 - 7 minutes or until syrup is lightly browned.
Drain through a coarse sieve, discard cinnamon stick.
Place walnuts on a wire rack over a 19 X 29 cms rectangular slice pan.
Cook in moderate oven 180 C for about 8 minutes or until nuts have darkened slightly.
Remove from oven, cool on wire rack.
Nuts will crisp as they cool.