Honey Roasted Pear With Pumpkin and Cranberries
katii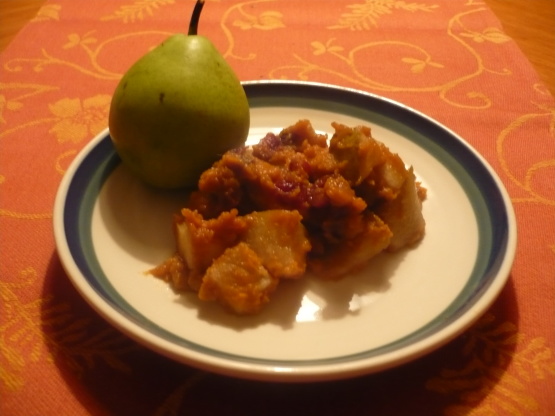 Warm, comforting autumn flavours are very prominent in the side dish, which is so sweet you would think it was dessert!

I made this and couldn't quite decide if it was an odd side dish or a messy dessert. I added a gingersnap crumb topping (with brown sugar and pecans), baked it another 25 minutes, and made it into a crumble. As such, it's found its way into my recipe file!
Combine honey with the three spices; blend well.
Lay the pear on a foil-lined baking sheet and drizzle the spiced honey overtop.
Roast the pear in a preheated 350* oven for about 10-15 minutes or until softened and caramelized.
Stir the roasted pear into the pumpkin; stir in brown sugar.
Stir in the cranberries.
Cover and keep in a 200* degree oven for 30-45 minutes until heated through (and flavours have melded).
Stir and serve (also really tasty the next day, when the flavours have REALLY melded!).
Enjoy!