GeeWhiz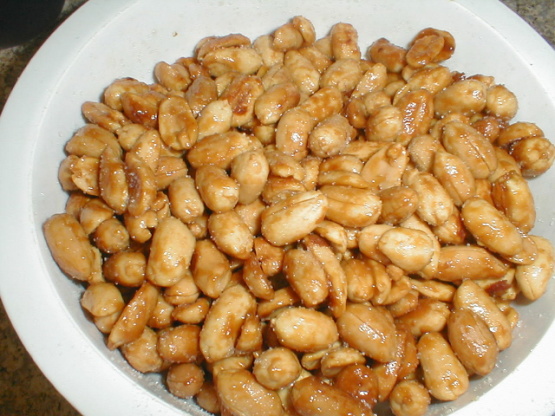 Make your own! I was surprised not to find this recipe on here - it's very easy and tastes better than store bought canned. I clipped this recipe from some newspaper. If you like really sweet then try sprinkling with sugar. DO NOT USE MARGARINE - THEY WILL BURN OR GET TOO DARK. Photos taken by me on 2/26/06.

This is a great recipe! I love the butter flavour. If you find that the peanuts are still gooey or sticky after cooling, it means that you probably didn't cook them enough. They need to be cooked until the honey reaches a hard crack stage (i.e. the honey is hard like candy once cool). While cooking, take a peanut out (not with your fingers though!) and dip it in ice water quickly. If the honey shell around the peanut is hard and goo-free, they're done. But don't overcook (as the other reviewer mentioned) because honey can burn quickly.
Preheat oven to 350°F.
Place peanuts in a bowl.
Heat butter and honey together, in microwave or on stove top, stirring well; Toss with peanuts.
Spread peanuts on a cookie sheet and bake at 350F for 5 to 10 minutes; After the 1st 5 minutes check them & stir every 1 or 2 minutes until peanuts are golden brown - the glaze will thicken and darken.
Remove, stir while cooling for 5 - 10 minutes until they no longer stick together.
*Sprinkle with salt (optional) or mix it in with the honey & butter mixture; you can also toss with sugar.
*I saw these at a Chinese restaurant covered with Powdered Sugar - yummy!
These taste great while they're warm! (and may leave a little butter on your fingers).