Honey Roasted Peanut Cookies
katew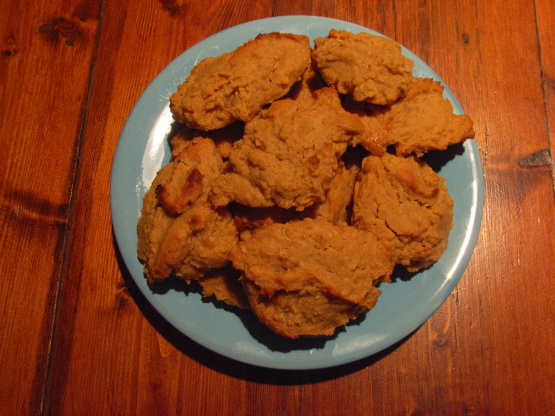 These cookies are chewy, and the glaze is just the right amount of sweet. It's a great peanut butter cookie recipe by itself. The glaze is an extra touch for something original!

I made the cookie batch and made squares instead..... by taking the honey roasted peanuts and a cup of brown sugar and then mixed in honey...(just squeeze honey any amount by choice)in a bowl then set aside..... then make the cookie batter spread in a well greased buttered pizza pan...then spread batter in pan.... then take the filling spread amount needed to top of batter... take the rest of the batter put over peanut mixture... seal around edges with extra batter if needed and bake on 350 untill knife comes out clean when poked in the middle....let cool and slice in desired squares...the kids love it..Do to the contents of nuts and honey be very careful for allergies and small babies and young children...peanuts are whole in the center...honey can give an allergy reaction too...so enjoy this treat and Happy Holidays from our family to yours!!!!
Preheat oven to 350 degrees.
Blend butter, peanut butter, and sugars.
Add in honey and egg. Mix well.
Stir in baking soda, then add flour a little at a time.
Spoon onto cookie sheet, and bake 9-12 minutes until golden.
While cookies are baking, mix together glaze ingredients with an electric mixer. If glaze is too watery, add a little more powdered sugar (up to 1/4 cup) until it's a good consistency.
Drizzle over cookies. Top with honey roasted peanuts.