Honey Roasted Peanut Butter Toffee Swirl Cookies
Katzen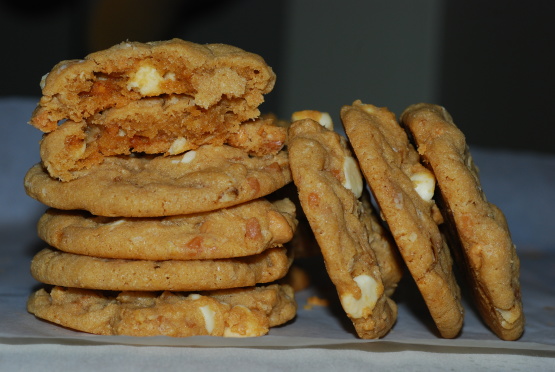 The original recipe is from Kittencal. I have made these so many times and made changes with some of my family's favorite ingredients and thought I would post to share with you. The Honey Roasted Peanut Butter give these cookies such a wonderful flavor. Hope you enjoy.

Top Review by fruii
These make quite large cookies and are quite good, I would not say the most amazing cookies I have ever had, from previous reviews I was expecting the 'be all and end all' of cookies. Only problem with my batch was that I did not use non stick baking paper on the trays, the toffee I used was hard toffee lollies that I smashed with a cleaver, and these 'bits' melted and made it difficult to get the cookies off the trays once they had cooled for 5 minutes. In Australia, we dont have 'swirled morsels'or toffee chips, or the honey roasted peanut butter. So I used normal peanut butter, honey, block of white and block of milk cooking chocolate , chopped, and Werthers cream candies, which are individual hard toffees and this combination seemed to work out ok.
In a mini food processor or blender, process 1 cup oats until ground fine.
Mix together ground oats, remaining 1/2 cup whole oats, flour, baking powder, baking soda and salt.
In a Kitchen Aide mixer (or whatever you have) beat together the softened butter and both sugars until light and fluffy.
Add in eggs, one at a time, the vanilla and peanut butter.
Mix well until smooth and creamy.
Mix in the flour mixture until combined.
Fold in swirl chips and toffee bits.
Heat oven to 325°F.
With an ice cream scoop (about 1/4 cup size) place 1 scoop on lightly greased baking sheet about 2 inches apart.
Bake cookies for about 16-18 minutes or until golden brown.
Cool cookies for 5 minutes and transfer to racks to cool completely.
Cookies will be about 3 1/2 - 4 inches wide.