Honey-Roasted Nuts and Fruit
GaylaJ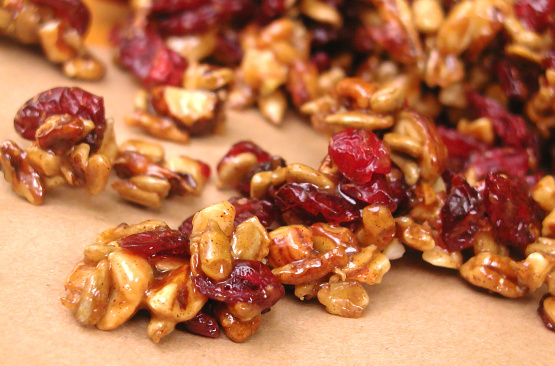 Tasty snack from Cooking Light that provides a concentrated source of carbohydrates from the raisins, along with protein and "good" fats from the nuts. Feel free to substitute nuts and fruit according to your preference, or what you have on hand. I don't care for raisins, so I used craisins (dried cranberries) ; I found I was out of slivered almonds, so I substituted some chopped macadamias. I especially loved the addition of cardamom--added an unexpected element.
Line a baking sheet with parchment paper or foil and coat with cooking spray.
In a large nonstick skillet, heat butter over medium-high heat. Stir in honey and cook 2 minutes or until mixture bubbles around edges of pan.
Add nuts and next 5 ingredients, and cook over medium heat until nuts are golden, about 8 minutes, stirring frequently. Stir in raisins.
Immediately spread onto prepared baking sheet; cool completely.
Note: Mine were still a bit sticky after they cooled, so I just stored them in the refrigerator.