MsPia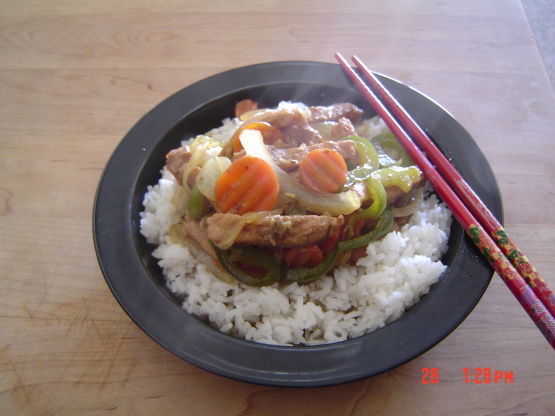 This is my mom's recipe. Not sure exactly where she got it from, but it has been a family favorite for years. The original recipe is served over cooked rice, but my dad doesn't like rice, so he eats it over cooked egg noodles. It's great both ways. This is a great recipe that uses ingredients that you usually have sitting around in the cupboard.

This was in my crockpot all day and we couldn't wait to get to it. I used a pork tenderloin and added cornstartch at the end for a thicker gravy. It was good! BTW, we like egg noodles also. Thanks for the recipe!
Cut pork in 1 inch squares; discard bones.
Brown pork in oil in large skillet.
Fry for 15-20 minutes.
Combine gravy mix, water, honey, soy sauce, vinegar, ginger, and garlic salt.
Add to skillet, cover, and cook 20 minutes.
Add carrots, cook 15 minutes.
Add onion and green pepper, cook 5-10 minutes.
Serve over hot rice or egg noodles.