Honey Poppy Seed Pasta Salad
teresas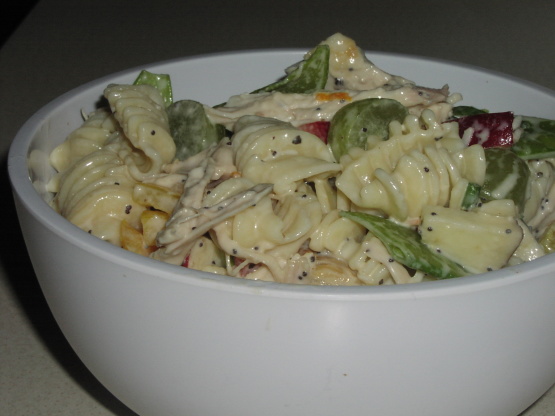 This is a recipe from my local newspaper. It sounded good and I didn't want to lose it!

I couldn't locate the wheel macaroni so I used Radiatori instead...I made this for a huge potluck so I doubled the recipe...it worked great...there wasn't any left after the event...the hubby and I both loved the flavors...I saved a cup full to try the next day...you could make this a day ahead...I cooked the macaroni and shredded the chicken...once I got to our event (RV trip)...I assembled the rest of the ingredients...even without doubling the recipe it makes a lot...so make sure you have a huge bowl handy...made for "First Time" tag game...
Cook and drain pasta according to package directions. Set aside to cool.
Meanwhile, remove meat from chicken then use 2 forks to shred the meat.
In large bowl, combine chicken, peppers,snow peas, apple, grapes and scallion.
In a small bowl, whisk together remaining ingredients, except the almonds.
Return pasta to large bowl, mix with chicken and veggies, add dressing and stir to coat.
Garnish with almonds.
Enjoy!