Honey Pizza Dough (awesome)
gailanng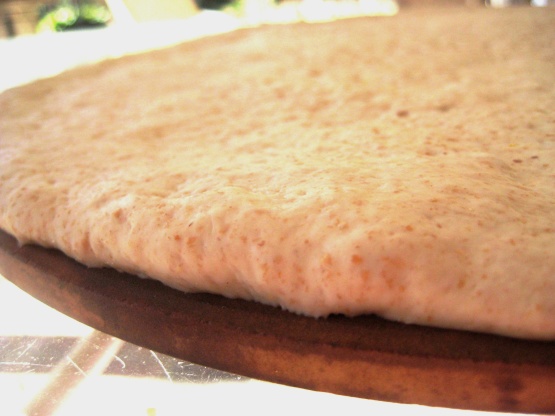 This is Wolfgang Puck's recipe, and we love it. If you don't have honey, just use sugar. We've found that this makes some of the best dough we've ever had.

This is a good recipe.I take the remaining dough and make pizza bread to snack on while pizza bakes.I pull a piece of dough,roll up between hands and then stretch it out.Twist it around like a french twist donut.Drop in to hot[not too hot]olive or canoli oil.Fry until light brown on both sides and done.Can sprinkle with garlic powder or make dessert.Roll while warm in sugar and cinnamon mixture.Thanks for the recipe....
In a small bowl, dissolve the yeast and honey in 1/4-cup warm water (100-110 degrees).
In a mixer fitted with a dough hook, combine the flour and the salt. (can do by hand with spoon if you don't have a mixer).
Add the oil, the yeast mixture, and the remaining 3/4 C water, mix on low speed until dough comes cleanly away from the sides of the bowl and clusters around the dough hook, about 5 minutes.
If the dough is still sticky, then simply add a bit more flour until it pulls cleanly away from the hook.
Turn the dough out onto a clean work surface and knead by hand 2 or 3 minutes.
The dough should be smooth and firm. Place in lightly oiled bowl an cover with plastic wrap.
Let sit for about 30-45 minutes. (When ready, the dough will stretch as it is lightly pulled).
Take dough out of bowl and divide into either 2 or 4 balls, depending on whether you want 2 large pizzas or 4 small.
Work each ball by pulling down the sides and tucking under the bottom of the ball. Repeat 4 or 5 times.
Cover the dough with a damp towel (I just use plastic wrap, loosely fitted) and let rest 15 to 20 minutes.
At this point, the balls can be used or wrapped in plastic and refrigerated for up to 2 days.
To make pizzas, I stretch out onto greased pizza pan, top with sauce and toppings, and bake at 450 degrees for 12-16 minutes, until done. (smaller pizzas will take less time, so keep watching it)
I usually slide the pizza off the pan for the remaining 2 minutes to crisp it up a bit.