Um Safia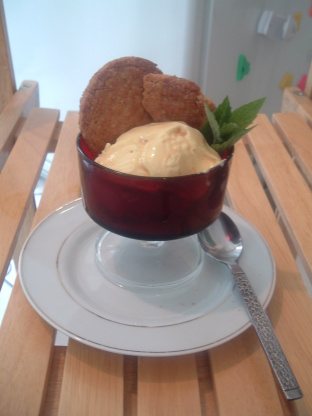 I love pineapple and I love ice cream, this is a really great treat.

Reviewed for ZWT III. I loved this sundae. I didn't follow the recipe exactly - I didn't use the rum but I increased the honey and added a little fresh espresso which I think worked really well. I loved how the sauce ran over the top of the ice cream and made a gorgeous pool at the bottom of the glass to cover the pineapple and soften the ginger snaps. (I couldn't wait 5 mins so just heated my sauce which is why it ALL ran to the bottom - I suggest you STICK to the recipe!) I honestly can't wait to make this again!!!
Drain pineapple, reserving 2 Tbls of juice.
Cut into 1 inch wide chunks.
In saucepan, melt butter over medium-low heat.
Add honey, curry powder, salt and pineapple juice.
Stir to blend.
Heat just to boiling, reduce heat and add pineapple.
Cook for about 5 minutes.
Remove from heat.
Place rum in a small saucepan and heat gently over medium heat.
Ignite the rum and allow the flames to die out.
Stir rum into the warm pineapple mixture.
Sccop 4 bowl of ice cream.
Pour mixture evenly over ice cream.
It will be runny and melt the ice cream.
Put 2 cookies with each sundae.