Bayhill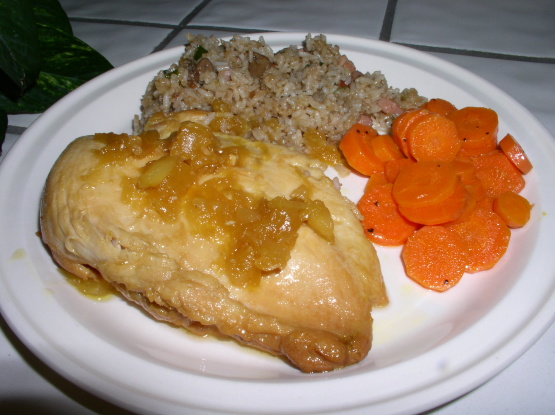 Crushed pineapple and say sauce season this flavorful chicken entree made in the slow cooker.

I was just coming to post this, since I just finished popping it into the crockpot for tonight's dinner. I love this recipe! It is so fast and easy, and just delicious when done. Super tender, too. I never bother to brown the chicken (and so never use the oil), and I am allergic to pineapple, so I sub 1/4 c. apple juice for the liquid in the can of pineapple and don't bother with any fruit. Served over rice, this is a terrific meal. I believe the recipe originally came from Taste of Home - that's where I got my copy, I think.
In a skillet, brown chicken in oil in batches on both sides; transfer to a 5 qt slow cooker.
Combine the remaining ingredients; pour over chicken. Cover and cook on LOW for 3 to 4 hours or until chicken is no longer pink.
Strain pan juices, reserving pineapple. Serve pineapple over the chicken.