Lvs2Cook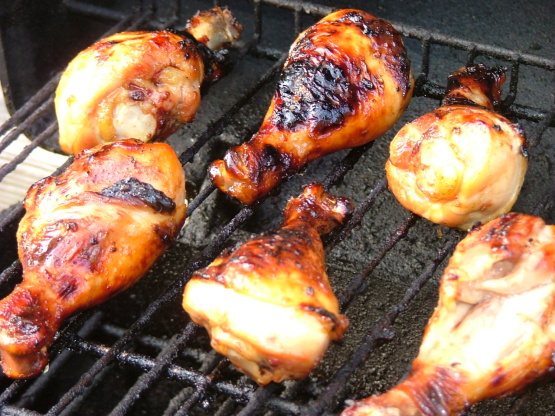 This recipe was a grand champion winner! From Midwest Living. If your garlic cloves are large, 2 cloves minced is plenty. Chicken thighs or other meaty pieces may be used instead of drumsticks. Marinating time is not included in the prep or cook time.

I halved all the ingredients since I had 6 nice sized drumsticks... I ended up marinating them for over 24 hours since my BF decided he didn't want chicken two nights in a row... We grilled them on our gas grill on MED and had a lot of flare ups due to the honey and juice in the marinade... So some of the pieces came out a little more charred than we would have liked, but the meat was nice and juicy and you could taste a faint sweetness from the pineapple juice. I used fresh ginger and would recommend doing so... Thanks for sharing!!!
For marinade, combine all ingredients except the chicken in a large saucepan. Bring to boiling. Reduce heat and simmer uncovered for 15 minutes, stirring occasionally. Let mixture cool to room temperature.
Place chicken in plastic. Pour the marinade over, seal the bag, and turn several times to make sure all the chicken is coated well. Marinate the chicken in the refrigerator for 6 to 24 hours, turning occasionally.
Drain the chicken pieces, discarding marinade. Grill for 40 to 45 minutes or until chicken is cooked and no longer pink.