Honey & Pine Nut Coffee Cake
Bobtail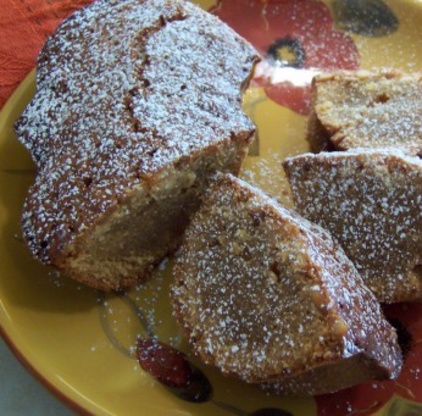 A lovely and moist coffee cake, sweet and golden. From a supermarket magazine, posted here for future use and safe keeping.

This cake has a very "dark" nutty flavor! I used all purpose flour, but I think it should be self-rising flour. The cake turned out dense and moist and was very tasty! I think using self-rising flour would have given a more cake like texture and lighten the flavor some. However, it was very good and one of my DH's card playing buddies asked to take some home for he and his wife! Now this is definitely a positive comment on this cake! Oh, BTW, between the card playing guys, myself and sending some home with one of the guys, this cake is history! LOL! Thanks for a wonderful photo swap, Sylvie!
Preheat oven to 180°C/350°F/Gas 4.
Grease a 8 inch round cake tin or spring form, if using cake tin it helps to line it with baking paper as well.
In a small sauce pan, melt the sugar, honey and butter together over a medium heat, boil for 1 minute and remove from heat.
Set aside and allow to cool until just warm.
Place the pine nuts onto a baking tray and roast for approx 8 minutes, alternatively roast in a dry non stick frying pan on top of the hob, stirring regularly.
Add the pine nuts to the honey mixture.
Stir in the eggs and flour.
Pour the batter into the baking tin and bake for approx 50 minutes.
The cake is done when the top springs back when pressed lightly.
Allow to cool for 10 minutes before removing from pan.
When cold dust with confectioners suger and serve.