Honey Pecan Carrot Cheesecake
Hipfan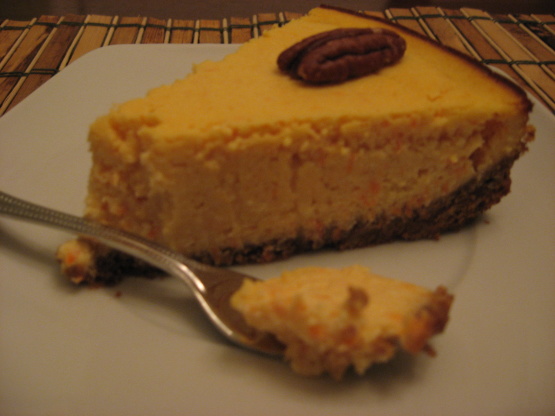 This was a last minute recipe. I didn't have any graham crackers, so I used some Rice Chex Cereal, instead. It came out terrific.

Very easy to make and very delicious.I definately will make this over and over again!
Preheat oven to 350 degrees.
Grease a 9-inch springform pan.
Combine Rice Chex, pecan, honey, cinnamon, and butter.
Press into the bottom and slightly up the sides of a springform pan.
Bake for 5-7 minutes, set aside to cool.
Place remaining ingredients into large bowl and beat until smooth.
Pour into prepared pan and bake in the center of the oven for 50-55 minutes, or until the center feels solid in the middle.
Cool, loosen rim from pan, cover with plastic wrap and refrigerate until ready to serve.
You can take about 1/4 cup shredded carrot, spread out on parchment paper and bake at 350 degrees for about 10 minutes, don't let them brown.
Cool, place in a small bowl and lightly sprinkle some sugar over the dry shredded carrot and garnish individual pieces of cheese cake.