This Honey Pecan Butter is delicious when spread over warm pancakes, toast, waffles, or French toast. A simple way to make an ordinary breakfast extraordinary!
Directions
Mix all ingredients into softened butter.
Chill until ready to serve.
Most Helpful
Very tasty, but a bit too much honey IMO, and I could have used more chopped pecans. But overall very good, I used as a spread for warm peach banana bread and it was incredible.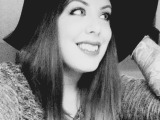 OH MY GOSH. That is my opinion, as well as the opinion of the other guests to whom I served this at a wkend house party. We ate it on toasted bagels, and I was told later one of the guys was eating it straight on a spoon. I also toasted the pecans, and added a bit more honey than was called for.
This is really nice on pancakes (I made your recipe) I also toasted my pecans before adding them to bring out the nutty flavor. We'll try this on bagels tomorrow.