jo_g8865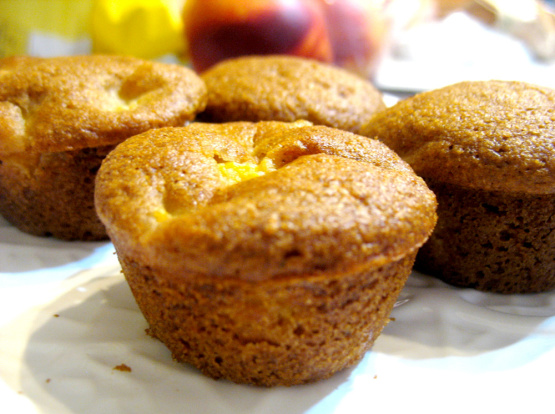 Pack these in a rustic basket lined with a napkin for a thoughtful hostess gift. That is, if you don't eat them all before you get there...Use oat bran or corn bran or go with an equal amount of whole-wheat flour, when looking for a replacement or substitute for wheat bran.

Top Review by Bergy
What a delight these muffins are. I'm going to keep some in the freezer for those winter mornings when I can only dream of peaches.The whole wheat flour with the cinnamon & bran gives a hearty wholesome flavor I used fresh peaches (they are at their best right now, loaded with sweet goodness) and French Vanilla Peach yogurt - wonderful thanks Lennie
Preheat oven to 350 degrees F.
Combine flours, bran, baking powder, baking soda, and cinnamon.
Separately, combine honey, egg white, yogurt, and oil; stir well.
Pour liquid into dry ingredients; stir until just moistened.
Add peaches.
Pour into greased muffin tins.
Bake at 350 degrees F for 18-20 minutes or until lightly browned.