Honey Oatmeal-Raisin Cookies
NELady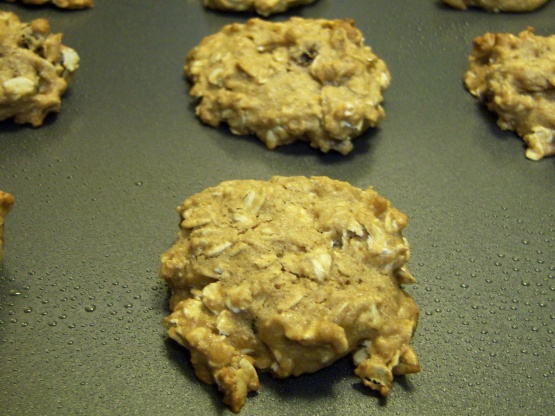 Recipe from Ellie Krieger in Food Network Magazine May 2010. They're described as "...soft, chewy and sweet but have about half of the sugars and saturated fat, fewer total carbs, and more protein and fiber than a traditional recipe..." I haven't made these yet -- just jotting down the recipe for the future.
Preheat the oven to 350*F. Mist 2 baking sheets with cooking spray. Beat the butter, canola oil, honey, egg, almond butter and vanilla extract in a large bowl with a mixer until combined.
In another bowl, whisk the dry milk, flour, baking soda, cinnamon and salt. Add the flour mixture to the butter mixture and stir to combine. Stir in the oats and raisins.
Scoop tablespoonfuls of batter about 2 inches apart onto the prepared baking sheets. Bake until golden, about 12 minutes. Let the cookies cool 2 minutes on the baking sheets, then transfer tho a rack to cool completely. Store in a loosely covered container for up to 3 days.