Honey Nut Pork or Chicken Stir-Fry
Annacia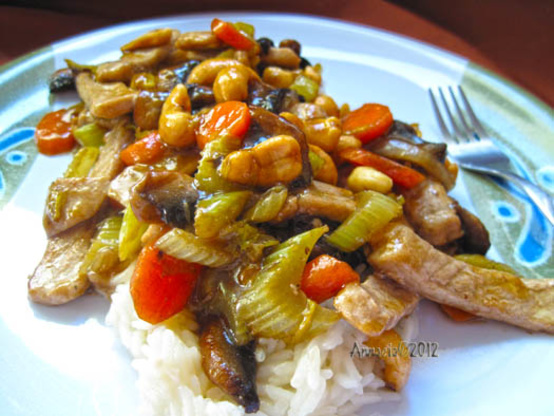 Entered for safe-keeping. From "Favorite Brand Name Best Loved Chinese Recipes and More", originated from National Honey Board. U.S. family-style recipe.
Cut pork into thin strips; set aside.
Combine orange juice, honey, soy sauce, cornstarch and ginger in small bowl; mix well.
Heat 1 tablespoon oil in large skillet over medium-high heat.
Add carrots and celery; stir-fry about 3 minutes. Remove vegetables; set aside.
Add remaining 1 tablespoon vegetable oil into skillet.
Add meat; stir-fry about 3 minutes.
Return vegetables to skillet; add sauce mixture and nuts.
Cook and stir over medium-high heat until sauce comes to a boil and thickens.
Serve over rice.