Honey Mustard Salmon and Asparagus (Foil Wrapped)
Prep 10 mins
Cook 15 mins

Foil wrapped salmon and asparagus with a mustard and horseradish glaze. The mustard is a German ingredient, but is used widely in Switzerland also. Sounds good! I found this at salmon.com.
Directions
Preheat grill.
Season filets with salt and pepper.
In a small bowl mix mustard, honey, horseradish and 1 T. olive oil; brush on filets.
Mix asparagus with remaining 1 T. olive oil, season lightly with salt and pepper.
Place each filet on doubl thickness of aluminum foil ( 12"x12" ), arrange equal amounts of aspargus along side each filet, fold and seal.
Grill covered until salmon flakes easily (about 15 min.).
Reviews
Most Helpful
Delicious! I tried to remain true to the recipe, but made a few minor changes. I used one 1-1/2 lb. piece of salmon fillet and I cooked this in the oven at 375 degrees for about 25 minutes (the weather didn't work out for grilling). The horseradish gives it a nice zip and the flavor is very satisfying. Thanks for sharing this unique recipe. Made for ZWT7.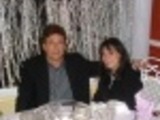 This was delicious and so easy! We loved the sauce, and the asparagus cooked to perfection, not overdone. We will definitely use this recipe again. ZWT7 - Shady Ladies

Very good. Took longer than 15 minutes on our gas grill. Easy and tasty. Will keep this recipe for sure!