Honey Mustard Kielbasa and Potatoes
gailanng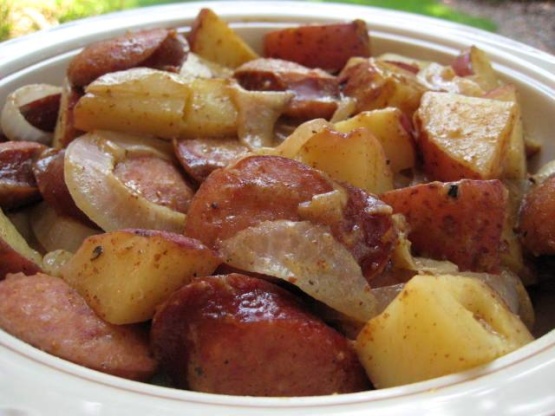 From "Meals Made Easy with Grey Poupon", this sounds easy and good.

Outstanding! This was a total hit with the family! I did not have honey mustard so I used French's Spicey Brown Mustard and about 2 T of honey to mix with the chicken broth. It went together super quick and the only complaints were that they would have liked the potatoes to brown a bit more and that I didn't make a double batch. I have already put it on the menu for next week.
In a small bowl, combine wine, beer or chicken broth, mustard and brown sugar.
In large roasting pan, combine kielbasa, potatoes, onion and mustard mixture.
Toss to coat well.
Bake at 400 for 40-50 minutes or until potatoes are tender, stirring occasionally.
Garnish with parsley.