Honey Mustard Grilled Salmon or Tuna Steaks
PaulaG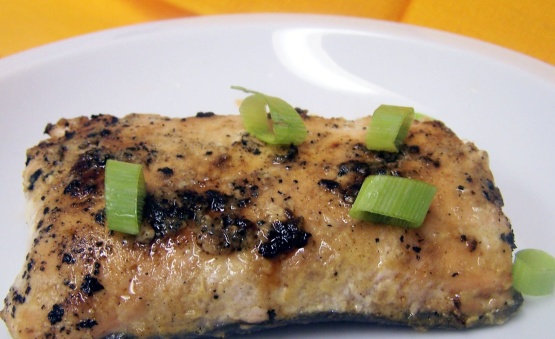 Salmon is my favorite "meat" and maybe my favorite food on earth. Since it's also good for you, I try to eat it at least a couple times a week. Grilled with this marinade is one of my favorite ways. If you have more fish and more than 3 people to feed, increase the amount of marinade. The preparation time is basically the marination time.

This just did not do it for me!! I'm not a great fish eater but I do like to try fish recipes sometimes. I used salmon steaks and I grilled them for 8 min and they came out a bit too shushi like for me. It was kind of mushy rather than cooked. A little longer cooking for me I guess. Not a bad recipe but just not that good for me.
Combine the honey mustard, soy sauce, vinegar and oil in a large ziplock plastic bag.
Add the salmon and seal the bag, turning to make sure pieces are coated on all sides.
Refrigerate 1-2 hours, turning occasionally.
Grill over hot coals 5-7 min.