Honey Mustard Chicken With Roast Vegetables Ww Aust. 5.5 Pnts
PaulaG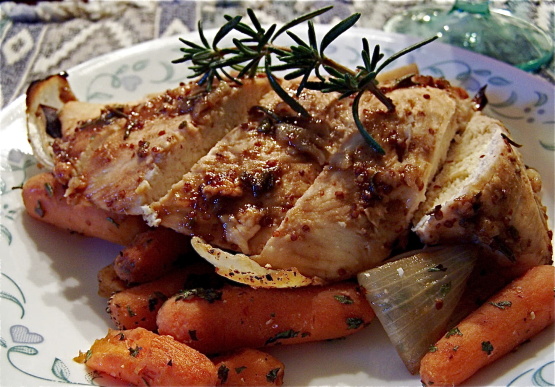 Made this for a family dinner, added lots of different vegetables and everyone really enjoyed it. Thanks.
Preheat oven to 200°C Line base of a large roasting pan with baking paper and set aside.
Heat a large non-stick frying pan over high heat. Spray chicken with oil and cook for 2 minutes each side to brown. Remove from pan and set aside.
Meanwhile, combine honey, rosemary, mustards and vinegar in a bowl. Season to taste with salt and pepper.
Arrange carrots, parsnips and onions in roasting pan and toss with olive oil. Roast vegetables in the preheated oven for 40 minutes, turning once. Arrange chicken amongst vegies. Spoon over marinade and roast for a further 15 minutes, or until chicken and vegies are golden and cooked through. Set aside to rest for 5 minutes. Slice chicken into 4 pieces and serve with roasted vegetables.