cyaos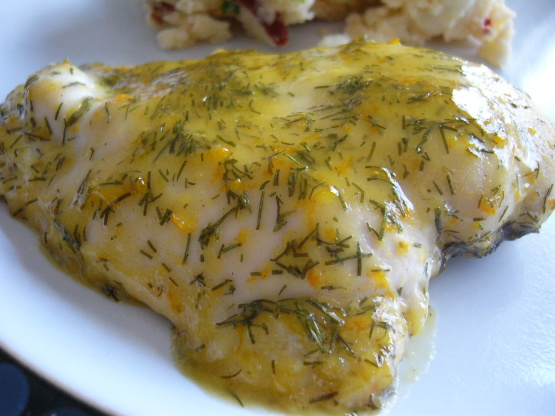 Prep this ahead of time by making the sauce up to 1 week early. Keep in an airtight container in the refrigerator until ready to use.

Top Review by cyaos
I am sorry but this did not go over very well in our house. It is very high in saturated fat - something I can overlook if the taste is up to par. I followed the recipe exactly with the exception of using boneless skinless chicken breasts as we don't eat skin-on chicken. It was too orangey for our tastes and the orange overpowered almost every other flavour, especially the dill which is a subtle flavour at the best of times. If I ever made this again I would cut out all of the orange or just put in a small amount of peel. Made for PAC Spring 2008.
Preheat oven to 400°F.
Combine mustard, honey, and orange marmalade (if using) in a small bowl. Stir in dill and orange peel.
Line a baking sheet with foil. Place chicken skin-side down on prepared pan. Brush sauce on top of chicken; coat well.
Turn chicken over. Gently pull back skin and brush meat with sauce. Gently pull skin back over sauce.
Brush skin with remaining sauce. Bake until juices run clear when thickest portion of meet is pierced with a knife, about 30 minutes.