Honey Mustard Acorn Squash
COOKGIRl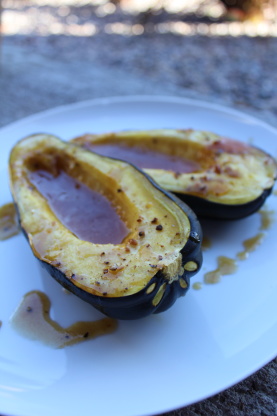 The combination of flavors was very delicious! I picked an acorn squash from an organic
community garden the other day and used it to prepare this easy recipe. Local honey (wildflower), Tillamook butter, best quality maple syrup. The squash cooked in a little over one hour and the halves were covered with foil the final ten minutes of baking to avoid the top burning. Will make again soon substituting other varieties of squash. Thanks for posting!
Preheat oven to 375°F.
Use a large knife to cut stem off squash and then to cut it in half vertically. Use a spoon to scrape out seeds and any stringy stuff from inside the squash. Set squash on a baking pan, cavity side up. If it wobbles too much, slice a piece off the backside so squash will lie still and flat.
Combine butter, mustard and honey and place into cavity of squash. Top with a light sprinkling of salt and pepper.
Bake until squash is very tender, about 1 to 1-1/2 hours.
For a variation on sweetness, use 2 tablespoons of real maple syrup instead of honey.