COOKGIRl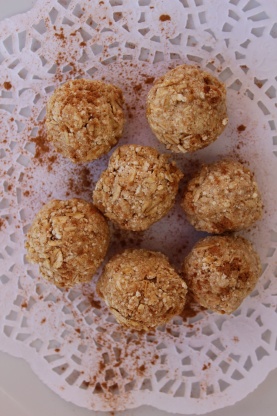 Great no-bake treat. DH's mom taught him to make these when he was but a lad. Serve with a tall glass of milk.

This was exactly what I was looking for! I did add mini chocolate chips to the recipe. I used local wildflower honey. My son loved it, I love it and hubby liked the sweetness. I think I will play with this alittle more and try some of the suggestions like the cinnamon and such. Thanks so much for posting this!
Mix all ingredients until evenly combined with clean hands or a silicone spoon.
Form into 1-inch balls. Remember these are no bake!
Serve immediately if able, but can be stored in an airtight container for later.
Glass of milk required for a delicious treat.
It is recommended that children under two not be served honey.