Honey -Lime Marinade for Shrimp
V.A.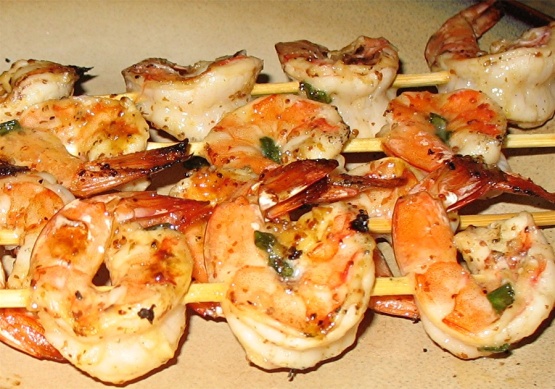 This recipe was originally used as a dressing for cedar planked salmon. I decided to use it as a marinade for shrimp. It worked beautifully. Gives the shrimp an excellent flavor. From the Weber's Real Grilling Cookbook
The whole family enjoyed this recipe. I had let the shrimp marinade for two hours the first time I made it and for about an hour the second time... Both delicious. I used a little sweet onion, as I didn't have the chives, and I added about a 1/2 T more of the lime juice (just to use what I had juiced), but that's definitely something you can adjust per your taste of course. Wonderful!
Place all ingredients, except oil, in a blender and mix until well blended. With the blender still running, slowly pour in the oil to make a smooth dressing.
You can also just whisk all ingredients together until well combined.
Put shrimp in plastic zipper bag, cover with marinade and refrigerate for 1 to 2 hours.
Place shrimp in a grill wok, or thread onto skewers and grill 5-10 minutes or until shrimp turn pink.
Prep time includes marinade time.