Honey-Lime Grilled Skirt Steak With Avocado-Tomato Relish
gailanng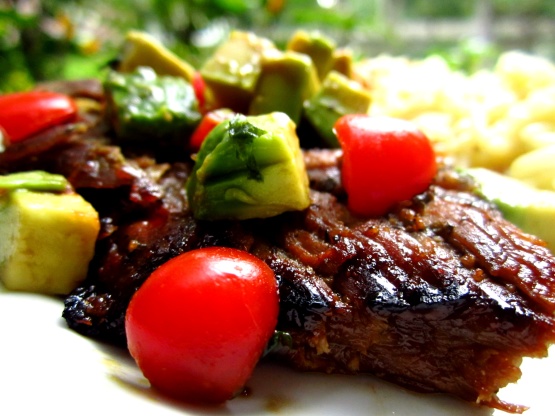 Another recipe from Cooking Light. Sounds wonderful and is next on my list of grilling recipes.

I ate this delectable dish as a soft taco even with a little sour cream and loved it. So easy to make and fit my partiality to avocados perfectly. I will use the relish on other things like burgers too.
Combine honey, lime juice, soy sauce, parsley and black pepper in a small bowl. Marinate the skirt steak for 1 hour using one-half of the honey mixture. Preheat grill to medium-high heat.
Place steaks on grill and cook for 5 minutes on each side or until desired degree of doneness. Let steaks rest 4 minutes before slicing. Pour remaining honey mixture on top of the sliced steak. Serve with Avocado-Tomato relish.
For relish: In a mixing bowl, gently mix all ingredients together making sure not to overmix. Let sit for 20 minutes before serving. Divide evenly to garnish the Honey-Lime skirt steak.