momaphet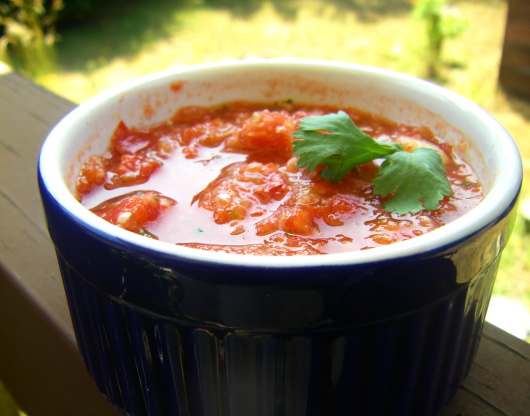 Serve this cold soup as a first course, a light entree, or lunch dish. A great way to use home grown veggies!
A great soup with unique flavors. I love fusion recipes like this: the ginger and honey really perk up what would otherwise be a pretty standard gazpacho. This tasted even better after being chilled in the fridge for a few hours - no need for ice cubes.
In a large bowl combine tomatoes, cucumber, orange sweet peppers, jalapeño, and garlic. In a food processor process mixture, half at a time, with several on/off turns until you have large chunks. Place all of the mixture in the food processor bowl. Add lime juice, honey, cilantro, ginger, and 1/4 teaspoon sea salt. Cover and process with several on/off turns until the mixture is just a little chunky. If desired, season to taste with additional sea salt. Can add a small amount of V-8 juice if your soup is too dry.
To serve, place 2 to 3 ice cubes in each of four shallow bowls; ladle soup over ice. Serve with lime wedges and green onions.