Honey-Herb Chicken & Spinach Salad
Pamela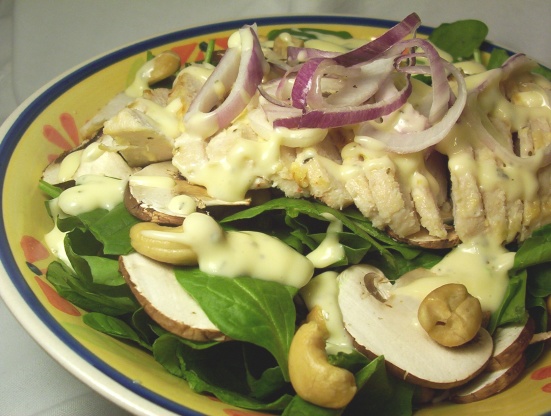 A definite recipe to try..easy and yummy!

DH made this last night with only 2 breasts and did use mayonaise for the miracle whip as we don't keep miracle whip in the house. Only thing he added was a healthy sprinkling of salt & pepper. Very good salad and love the crunch of the cashews. Even the dog enjoyed some of the salad without the dressing on it. I know, I know, I shouldn't give the doggie table food, but he was giving the sad puppy look.:) This is definately a keeper once zaar lets me add it to the cookbook.
Mix dressing, honey, juice and basil.
Reserve 1/2 cup dressing mixture.
Place chicken on greased rack of broiler pan.
Brush with 1/2 of the remaining dressing mixture.
Broil 10 minutes.
Turn; brush with remaining dressing mixture.
Broil an additional 7 to 10 minutes or until chicken is cooked through.
Cut chicken into 1-inch pieces; keep warm.
Toss spinach, mushrooms and cashews; top with chicken.
Drizzle with reserved 1/2 cup dressing mixture.
Garnish with red onion rings.
Serve immediately.
Honey-Herb Chicken Sandwich:.
Omit spinach and mushrooms.
Broil chicken breasts as directed.
Do not cut up.
Serve in split sandwich rolls with remaining dressing mixture.