Prep 30 mins
Cook 45 mins
I wanted something different for a cookout. This is so good, if you're having company, you'd better fix two. It's butterflied, so it increases marinated flavor and shortens grilling time. Everyone I fixed this for has asked for the recipe. I marinate in the morning to have ready for dinner.
Directions
Trim fat, butterfly roast by cutting lengthwise to 1/2 inch of other side.
Place in dish or large zip-loc.
Combine soy sauce, ginger, and garlic, pour over roast.
Refrigerate 3 hours or more.
turning occasionally.
Remove roast, discard marinade.
Combine brown sugar, honey and sesame oil in a saucepan.
Cook over low heat until sugar dissolves.
Coat grill rack with cooking spray.
Place roast over medium hot coals (350-400°F).
Brush with mixture.
Cook 20-25 minutes or until meat thermometer reaches 160°F.
Baste frequently.
Most Helpful
It's a winner. It was pouring out- so I ended up cooking in the oven. It took about 1 hour 15 minutes at 350. I kept covered in foil with the marinade for the first 45 minutes, then uncovered and poured off most of the marinade and basted with the glaze for the last part. It was yummy. I was afraid it would be too sweet, but the garlic/salt of the marinade helped. Like Kraiz, I also have made this before with all of the ingredients in the marinade, and it turns out nice that way too, just no glaze.

As someone who doesn't really like pork, I completely LOVED this pork loin! That marinade and, oh my word, that sauce!!! Heavenly. I butterflied my loin and cooked it in the oven as it was blowing a gale out and raining, but it still turned out great. I couldn't stop eating it and neither could my fiancé. He kept saying "This is so, so, so delicious!!" high praise from him!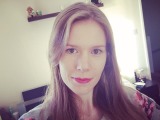 Awesome! I used two tenderloins instead of a loin & marinated it over 24 hours. <br/>I also didn't have honey or sesame oil so I substituted what I had in stock - sugar free pancake syrup & olive oil and it was superb! My hubby who puts Texas Pete on everything didn't even open the bottle and is still singing my praises!