Directions
Rinse turkey inside and out. Pat dry. Reserve giblets and neck for broth.
Make filling: Mix bread crumbs, green pepper, onion, chicken broth and spices.
Add orange peel and orange juice.
Spoon stuffing into cavity of turkey. Close openings with skewers.
Place turkey, breast side up, on a rack in a shallow pan. Insert meat thermometer in thickest part of thigh.
Roast turkey, uncovered, at 325 degrees for about 1 hour.
For glaze combine butter, orange juice and honey.
Brush turkey several times with glaze and pan drippings and roast it for another 1 1/2 to 2 hours until thermometer registers 180 degrees.
Remove turkey, keep warm; slice and serve.
Most Helpful
I don't care who ya are, I had the best lookin'turkey on Christmas! No I Did!!! No Me!!! Gorgeous turkey, and wonderful taste, and just perfect! Thanks tonks for the excepional recipe.

OH MY GOODNESS!!!!!this was a devine recipe truely the BEST turkey i have ever had.This was the first whole turkey I have ever made in my life i cooked it for my boyfriend and friends.Nobody could belive that it was my first turkey it was perfect!!Thak you for a EXCELLENT recipe.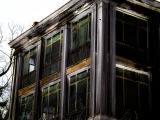 Exceptional turkey! This turkey was so tender and juicy! The flavors were perfect! There are no amounts listed for the bread crumbs in the recipe - so my roommate added a bag of stuffing mix... Wonderful Recipe!