Honey-Glazed Grilled Chicken
Nif_H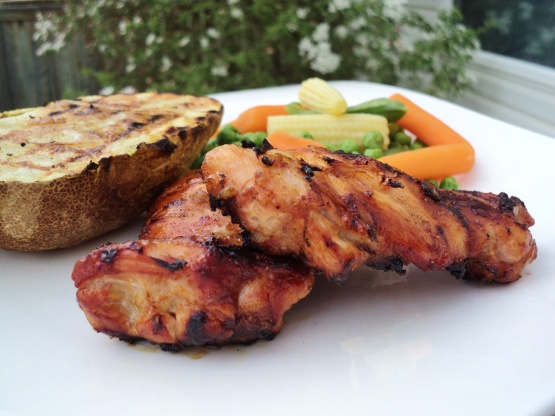 This recipe calls for a whole chicken cut up, but feel free to use your favorite pieces. I like using the whole chicken because it gives everyone a choice. If you like your chicken saltier or spicy, add some seasoned salt before starting the grilling process. I find the soy sauce adds enough salt for me. Prep time does not include the time needed for your grill to get hot.

Top Review by Nif_H
This chicken was very good! I used boneless, skinless chicken thighs and they worked just fine. It was tender and had a great flavour. We enjoyed this chicken with grilled potatoes and mixed veggies. Made for Went To The Market tag game. Thanks breezermom! :)
Prepare your grill.
Combine all ingredients except the chicken, stirring well. Set sauce aside.
Grill the chicken, skin side down, over medium coals for 50 to 60 minutes or until done, turning every 10 minutes. Baste with the sauce during the last 20 minutes of grilling time.